EMBRACE THE ULTIMATE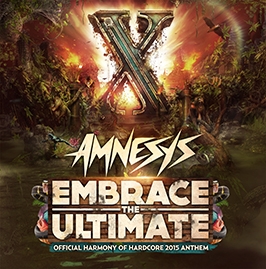 2015 may will be Amnesys's breakthrough year, he started with "Shockwave" the official Hardshock Festival anthem, and continuing to moving forward, Amnesys is on track to comfortably surpass his already outstanding accomplishments, boosting his reputation to exciting new levels. To celebrate the 10th year of Harmony of Hardcore, he made another big masterpiece.. Majestic synths, strong and hard kick, with Amnesys's penchant for melodic progressions!
shockwave (Official Hardshock Anthem 2015)
Brand new release by Amnesys on Traxtorm.
Italian genius Amnesys take on the responsibility of crafting Hardshock 2015?s defining track. The result? "Shockwave" – a damn near perfect, peak time festival track designed with no other stage but Main in mind. Capturing the essence Hardshock with crisp, majestic synths in a big room manner with Amnesys's penchant for melodic progressions pair for a highly engaging and catchy anthem that kicks off 2015?s festival season. Expect to hear this one belted out by the denizens of Wythmenerplas all day of Hardshock.
Big Bang / The Troublemaker Download @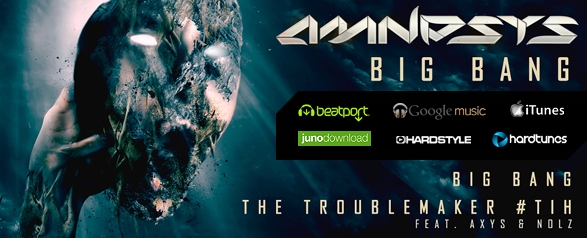 Amnesys - Big Bang / The Troublemaker #TiH (TRAX0134)
Available on: Beatport, Google Music, iTunes, Juno Download,
Hardstyle.com and Hardtunes.

Fatal error: Uncaught exception 'Zend_Gdata_App_HttpException' with message 'Expected response code 200, got 410
GData
NoLongerAvailableException
No longer available
' in /web/htdocs/www.djamnesys.com/home/lib/ZendGdata/library/Zend/Gdata/App.php:709 Stack trace: #0 /web/htdocs/www.djamnesys.com/home/lib/ZendGdata/library/Zend/Gdata.php(221): Zend_Gdata_App->performHttpRequest('GET', 'http://gdata.yo...', Array, NULL, NULL, NULL) #1 /web/htdocs/www.djamnesys.com/home/lib/ZendGdata/library/Zend/Gdata/App.php(875): Zend_Gdata->performHttpRequest('GET', 'http://gdata.yo...', Array) #2 /web/htdocs/www.djamnesys.com/home/lib/ZendGdata/library/Zend/Gdata/App.php(763): Zend_Gdata_App->get('http://gdata.yo...', NULL) #3 /web/htdocs/www.djamnesys.com/home/lib/ZendGdata/library/Zend/Gdata/App.php(205): Zend_Gdata_App->importUrl('http://gdata.yo...', 'Zend_Gdata_YouT...', NULL) #4 /web/htdocs/www.djamn in /web/htdocs/www.djamnesys.com/home/lib/ZendGdata/library/Zend/Gdata/App.php on line 709